Top Home Automation Features Women Love
November 7, 2016 at 2:45 PM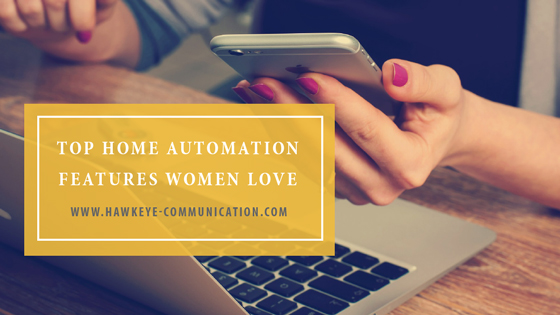 Home automation has become more appealing and appreciated by women than ever before. With busy lives of working, getting the kids where they need to be and managing the household, women understand enormous value in the time savings, energy efficiencies and comfort and security that home automation brings. Being able to accomplish many tasks on a smart phone not only gives you the flexibility to accomplish those on the go from anywhere, but also allows for ultimate energy savings and peace of mind. Here are some home automation features that women love.
Managing their homes with one app
As home managers who are often running in a million different directions, being able to control many of today's technologies remotely offers users greater peace of mind and time savings. Smart home products offer women the much-needed control to accomplish many tasks while on the go and be alerted of activities at home. From being able to see children arrive home from school safely, to the ability to unlock doors, turn lights on and off, change the temperature or set Geofence commands to happen automatically when arriving or leaving home, today's automation is a huge asset.

Keep an eye on their kids
Woman strive to protect their kids by all means possible. Knowing when kids get home from school, how they behave in the house, who they invite over or how their caretaker takes care of them is always on their mind. Home automation can send you notifications when your children arrive home from school and when they leave the house. Real-time video features allow you to remotely look in on things. You also have the ability to view 10 second recorded video clips to make sure everything is running smoothly at home.
Saving money and energy
Smart thermostats and lighting features cut down on monthly utility and energy costs. Saving money on energy usage is good for everyone. Scheduling energy usage can help save money, but because schedules might not be consistent all of the time, being able to control those things remotely gives you ultimate savings. 


Relaxation or Celebration
After a long day at work, how about arriving home to mood setting lights and your favorite song? Or, maybe something exciting happened to someone in your household that day. How fun would it be to enter your home to a celebration song! The use of Geofence features can help you achieve those things easily and effortlessly from anywhere. 
We would like to believe that home automation was designed with women in mind. It centers on making homes better, more comfortable and safer. These are things women work hard to achieve daily but sometimes find difficult in their hectic schedules. Home automation offers greater peace of mind that translates into more focus, less stress, and reward.
Tags: