What is Home Automation?
March 9, 2018 at 9:16 AM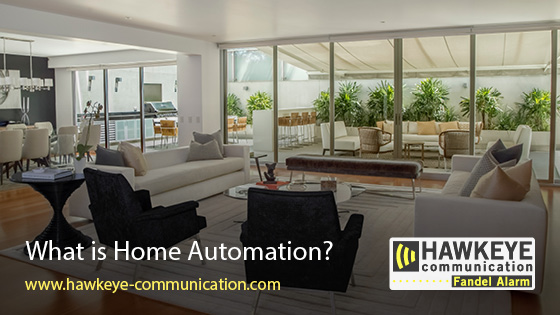 If you've been thinking about upping your home's security, you've probably come across the term "home automation," but what exactly does that mean?
Simply put, home automation lets you control the devices in your home from your smartphone, tablet, or computer. This term can apply to isolated devices such as thermostats and sprinkler systems, but it can also apply to lights, electrical outlets, heating and cooling systems, and appliances within the home. All of these devices can be hooked up to a remotely controlled network. The best part is that you are in control of everything at all times.
Home automation can also be linked to your security or alarm system, which means your doors, windows, smoke detectors, locks, sensors, and surveillance cameras are all part of the show.
Breaking it Down: Automation
There are two major aspects to home automation, the first being automation itself. Automation is the ability to program and schedule the devices that make up your home security system. All of the devices on the network can be programmed for time-related commands, which includes having your lights turn on or off at set times every day. Automation can also include non-scheduled events such as turning on all the lights in your home when your system alarm gets triggered. 
Your system installer should walk you through the process of activating the options you'd like to make use of. Once you've received a tutorial, you'll have the creative freedom to come up with the solutions that make the most sense for your home and lifestyle. For example, do you have a window in your home that gets too much light throughout the day? Plug your motorized blinds into one of your smart outlets and program it to close at noon every day. Do you have a family friend or neighbor who walks your dog every day? Program your system to unlock the door for them and lock up behind them when they're done.
Breaking it Down: Remote Control
The other main benefit of Honeywell home automation systems is the remote access that comes with them. Remote access and control have been available for some time now, but the features you can access via your smartphone, computer, or tablet have greatly improved. 
Your Honeywell system comes with its own app called Total Connect that gives you access no matter where you are in the world. Whether you're on vacation in Maui or on a business trip in New York, you'll receive real-time alerts, video monitoring, and mobile control, all of which will give you peace of mind. Total Connect gives you the ability to stay in touch with your home and your family 24/7. 
Personalized Services
At Hawkeye Communication, we know that you lead a busy life. That's why we take the time to assess your specific needs and make recommendations based on your routine. Let us complete a home inspection today before you purchase your system so you know what features will be best for you. Give us a call today at 319-362-4300.
Tags: