What Makes Honeywell Security Systems so Amazing?
April 4, 2018 at 11:53 AM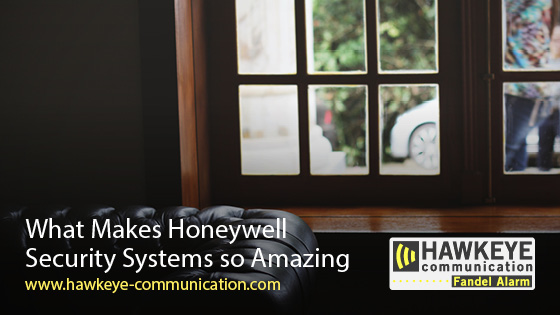 Located in Hiawatha, Iowa, Hawkeye Communication is a team of security experts that uses top-quality products. We offer a variety of Honeywell wired and wireless burglar and fire alarm systems to home and business owners in the Cedar Rapids, Iowa City, and Waterloo areas. 
Our team knows that a lot of security systems have a limited adaptability level, which is frustrating when you need your system to work for you. This is why we use products from renowned brands like Honeywell. 
Security systems from Honeywell can be programmed for a variety of tasks and offer several benefits. Here's why we like working with their products:
1. The company itself 
Honeywell is a big name in the world of security and home automation solutions. Whether you're investing in a residential or commercial system, you can count on this leading global manufacturer to provide you with quality products for years to come. 
Specializing in intrusion, fire and home automation systems, to the latest IP in video and access control, Honeywell focuses on technologies that connect you to your home and commercial space. 
Honeywell has locations worldwide and an extensive technology portfolio. Their products, experience, and trusted team have earned them the title of one of the security industry's top players.
Founded in 1906, Honeywell International has been offering quality security solutions since the beginning. 
2. Cutting-edge technology
One thing you can count on with Honeywell is that they're invested in using the latest technology in the industry. All Honeywell security systems come with wireless keypads that are compact, convenient, and cost-effective. 
These stylish keypads have a contemporary design and are simple to use. Every Honeywell security pad lets you control your security system with the push of a button. Their wireless keypads are compact and portable, which means you can put them anywhere in your home you desire. 
Then you have to factor in the Total Connect app that comes with every system. Honeywell is all about putting control in your hands, which means you can control the system from anywhere. Install the Total Connect app on your smartphone or tablet so you can make adjustments wherever you are.
3. Video surveillance
Your Honeywell security system is about more than sounding the alarm if an intruder enters your home. Your system can be linked to your video surveillance so you can easily determine when there's a threat. Integrate your system seamlessly with your indoor and outdoor cameras (even to your video doorbell) so you can view them remotely and keep your home safe. 
4. A comprehensive solution
Many homeowners turn to Honeywell for their security needs because Honeywell offers a comprehensive solution. With these products, you can protect your home from many angles. Choose from security solutions such as: 
5. Warranties are available
Have you ever made a technology purchase that didn't come with a warranty? It's quite nerve-wracking, isn't it? With Honeywell, you won't have to worry. Honeywell won't leave you high and dry after your system is installed. If you're experiencing a problem, you can consult your local dealer and installer for help. 
If you misplace your warranty information, you can look it up on the Honeywell official website by product so it's never lost!
Are you ready to take your home or business's security to the next level? Hawkeye Communication is here for you. Run your ideas by us and we'll help you determine the best Honeywell security system for you - we'll even take care of the installation. Call us today!
Tags: