Which Commercial Security Cameras Should You Choose? IP vs Analog
July 27, 2018 at 8:00 AM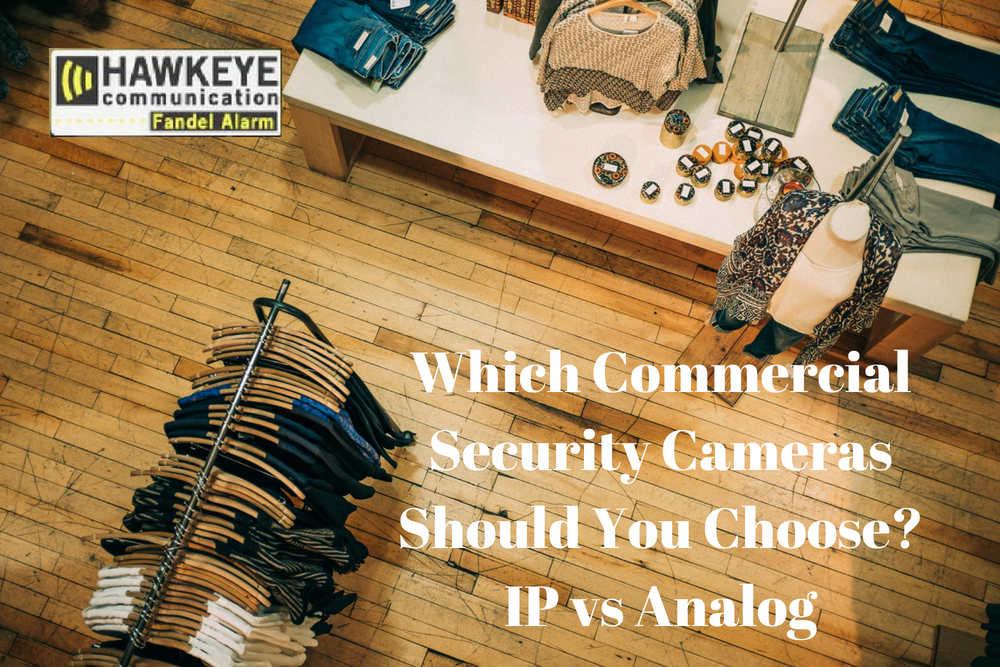 As a customer, you might think that all security cameras are created equally, but as a business owner you will soon find out this is far from the truth. Commercial security cameras come in all shapes, sizes, and styles, which means choosing the best one can be tricky.
Everyone wants something that offers a crystal-clear picture, cloud storage, and is easy to use. Whether you're installing a security camera for the first time or you're getting ready to upgrade your system, call the experienced team at Hawkeye Communication.
At Hawkeye Communication, we're proud to serve business owners in Iowa City, Cedar Falls, Waterloo, and Cedar Rapids with dedicated security services. Because we've installed hundreds of business security cameras, we know which ones to recommend for your specific needs.
Today, we're taking a look at the difference between IP and analog cameras. Let's get started!
What are analog cameras?
Also known as CCTV cameras, analog cameras send video to a format that can be used by televisions, VCRs, and DVRs.
What are IP cameras?
IP stands for Internet Protocol, which means these cameras send and receive data through a computer network. Because IP cameras can send video signals through this network, the network can be expanded to a wider range than with analog cameras.

Whether you're a small business or a large corporation with several warehouses throughout the state of Iowa, it's important to have a quality security camera system that works for you. To make a better-informed decision about the cameras to install on your property, let's take a look at the difference between the two.
IP vs Analog: A Security Camera Showdown
1. Picture quality
One thing is for sure: IP cameras surpass analog cameras by leaps and bounds. Analog cameras capture less than half a megapixel at best, which means IP cameras get the best resolution.
IP cameras capture a wide field, which means one can do the same job of three or four analog cameras.
2. Video analytics
Security cameras are more advanced than they've ever been. Honeywell cameras come with video analytics, which means you can set up notifications that will flag certain events that occur within a camera's field of vision. Get notifications when motion takes place, objects go missing, or when someone tries to tamper with the camera itself.
The best part is that you don't have to spend hours going through footage. Your network will tell you when these events occurred so you can skip right to them.
3. Room to grow
Unlike analog cameras that are directly connected to a DVR, IP cameras are connected to switches, which means they can run in close proximity of each other. In fact, your IP cameras can be connected to a single switch.
Not only does this reduce the amount of cable running throughout your property, but it also means you have the option to connect more cameras.
Conclusion
Hawkeye Communication is a Honeywell authorized security dealer, which means we know the value of using their business surveillance systems. Honeywell pours research and innovation into every product they create and they trust their dealers to install them correctly.
Don't leave your business at risk for a moment longer. Have the security experts at Hawkeye Communication design and install the perfect video security system for you. Call today to ask us about our services, including:
Custom security camera systems

Digital video recorders

Wireless security cameras

Access control integration

IP security cameras

Free consultation and design

Professional installation

Local maintenance

Top-of-the-line equipment
Tags: