Why You Need Smart Lighting this Winter
November 2, 2018 at 9:00 AM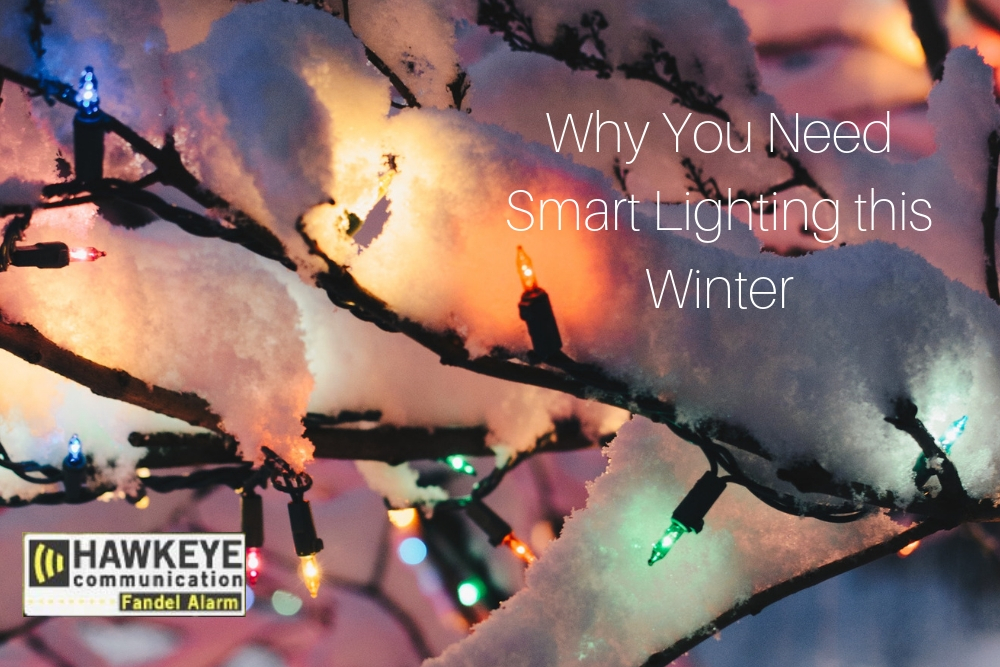 Iowa winters bring holiday parties and family gatherings, which make winter fun, but the lack of daylight can make it a dreary season. For some people, the sparse daylight leads to a seasonal depression called "seasonal affective disorder." Individuals who see too little light during the year's coldest, darkest months aren't the only ones who can benefit from smart lighting to brighten their home.
Right now, many of us are starting to think about the canned goods we need for the holidays and what gifts our friends and family members might like to receive this year. Before you start running around, baking, and shoveling snow, consider adding smart lighting to your growing to-do list this season.
Smart lighting can brighten any room in your home and keep the winter blues at bay. If you're still mulling the idea over, consider these five reasons to use smart lighting solutions in your home this winter.
1. Less Daylight = More Darkness

Call Captain Obvious, but these short days and long winter nights are the perfect reason to have a Lutron certified team like Hawkeye Communication install smart lighting in your home. By the time you get home in the evening it's dark, cold, and icy. Avoid the shuffle in the dark to find your house keys while the bitter wind whips through your coat and gloves.
Hawkeye Communication will visit your home in Cedar Falls, Iowa City, Waterloo, or Cedar Rapids and install smart lighting that can be controlled by your smartphone. You'll have the ability to create automatic lighting settings that fit your schedule.

Coming home from work early tonight? You can adjust your home lighting with the touch of a button to come on right before you get home.


2. Control it All
Okay, maybe you can't control how much snowfall Iowa receives this year, but you can control all the lights in your house with smart lighting. Enjoy having the ability to control your:
3. Holiday Parties
Winter is chalk full of gift giving, family dinners, and other fun events. Smart lighting can add that something extra to your gatherings that will make them all the more memorable. Dim certain lights to create a scene and add ambiance to your party all at the push of a button!
Here are some of our favorite holiday settings:
Dim the living room lights

Brighten the hallways and walkways

Display shades of red, green, blue or any other color

Brighten outdoor lighting so everyone can arrive/leave safely
 4. Wintertime Travels
If you're like most Iowans, you're attending several holiday gatherings and you have to do a little bit of driving to get to them. Use a smart lighting system to amplify the security of your home while you're on the road.
Avoid break-ins by setting lighting schedules that mimic your daily routine so your home looks occupied while you're gone. If you find that you'll be home sooner or later than you think, you can adjust the schedule from your smartphone, tablet, or computer.
5. It'll Save You Cash
Winter can incur some ridiculous bills. Between the holiday gifts, traveling expenses, and heating costs, the last thing you need is to add unnecessary energy costs on top of the pile of bills. Use smart lighting to save on your electric bills by:
Turning lights off you accidentally left on

Turning lights on you need at night but didn't want on all day

Use scheduling to ensure the right lights are on at the proper times

Add smart lighting dimmers to save energy
Receive Your Estimate Today
At Hawkeye Communication, our goal is to help you save money and keep your home secure. Give us a call today to discuss the smart lighting options that are right for you and to receive an installation estimate for your home in Cedar Rapids, Iowa City, Waterloo, or Cedar Falls.
Tags: