Why You Should Choose an ESA Certified Security Company
April 27, 2018 at 10:11 AM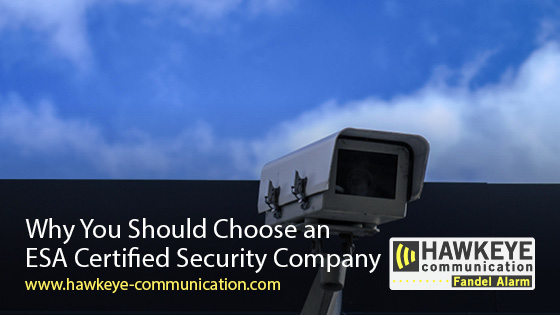 If you're looking to improve your home or office security system, you're likely doing some research as to who in your local area can install and maintain it. No doubt cost, knowledge, and overall company quality are important to you, but have you considered the certifications of the security companies you're researching?
Take the Electronic Security Association for instance. The ESA was established in 1948 and is the largest trade association in the United States that represents the electronic security and life safety industry. 
Companies like Hawkeye Communication that are members of the ESA focus on providing comprehensive security solutions. Whether you're looking to improve the safety and security of your home, office, industrial complex, or government office, you get everything you need and more from an ESA certified company. 
Let's take a look at what companies with ESA certification can do:
1. Install, integrate, and monitor
An ESA certified company like Eastern Iowa's Hawkeye Communication doesn't just install your system and leave. The security experts at Hawkeye will design, install, and maintain a system that meets all of your security and safety needs. Should you decide to make some future upgrades, Hawkeye will install and maintain those too. 
2. Intrusion detection
Maintaining your property's security is about monitoring and preventing threats of intrusion. Typically having a security system is enough to deter many would-be burglars, but in the event of a break-in, you'll be better off with a security system that was installed by an ESA certified team. 
3. Fire detection
Your security system should do more than create boundaries. An ESA certified company will address your fire prevention needs while keeping you secure. From the latest fire alarms to the most up-to-date detection systems, Hawkeye Communication has you covered. 
4. Video surveillance
Would you like to know of possible threats before they escalate? Your video surveillance system should consist of high-quality cameras placed in the most appropriate places around your home, office, or warehouse. In the event of a burglary or break-in, your cameras will help bring the person responsible to justice.  
5. Electronic access control
Your employees deserve to feel safe while they're at work and you deserve to have control of who accesses what areas around your office or industrial plant. A state-of-the-art electronic access control system installed by an ESA certified team can keep track of who has been in what areas and when. 
6. Commercial, residential, industrial, and governmental needs
One of the biggest benefits of working with an ESA certified company is their wide knowledge range. ESA offers technical and management training, government advocacy, and delivers information, advice, tools, and services that members pass on to their customers. This means that regardless of your security needs, you can rest assured that a security company like Hawkeye Communication can meet every single one.
Hawkeye Communication is a home, commercial, and industrial security company that serves the Cedar Rapids, Hiawatha, Iowa City, Waterloo, and Cedar Falls areas. We are an ESA certified company that designs, installs, and maintains comprehensive security and safety systems. Call today to receive an estimate on your system.
Tags: