Why You Should Consider Smart Home Technology in Cedar Rapids
July 2, 2018 at 9:00 AM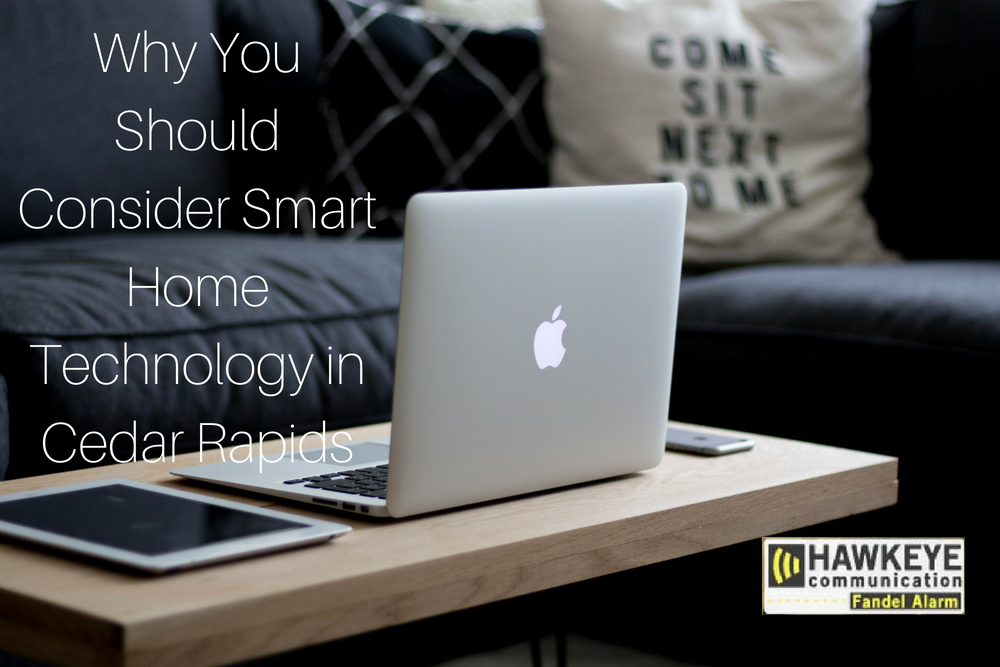 As someone living in Cedar Falls, Waterloo, or Cedar Rapids, have you ever wondered if smart home technology is for you?  If you have a smartphone that you carry around in your pocket or bag, you already have the beginnings of a powerful tool that makes your life easier, provides you with information at your fingertips, and can give you access to security, energy efficiency and amazing flexibility and convenience. 
The natural next step is to implement such technology into our own homes. There's no doubt that smart home technology is the latest innovation that's sweeping the nation. Whether you're in Waterloo, Cedar Falls, or Cedar Rapids, you have a home security company nearby that can help you reap the benefits of smart home technology - Hawkeye Communication.
Now is the best time to improve your home security and make your daily routine easier with smart technology. Transitioning to a smarter home allows you to control how your house functions, enhance security, and maintain accessibility. The best part is that it will help you save on energy costs.
Let's take a look at some of the top reasons why you should consider smart home technology for your home.
1. You're in Control
Integrating smart technology in your home means you don't have to be there to control it. Did you forget to turn a light off before you left for work? Pick up your smartphone and open your Total Connect app to turn it off.
Did the weather get unexpectedly cool during your vacation? Use your app to adjust your thermostat without worrying about it. When you arrive home form a long day at work and activities would you like your home to be the perfect temperature, have the right amount of lighting for security and comfort, and know that you or a loved one is entering a secure home? All of this and more is possible with an easy to use app and a Geofence feature that turns on your desired preferences when you get within your desired radius, providing hands free convenience. 
2. Improve Security
Smart homes do more than save you money on energy costs. Your home will protect you more efficiently once you install smart technology. A residential security system can monitor the traffic within and around your home and notify you when suspicious activity is happening. This will create a safer home for you and your family.
3. Everything is in One Place
At Hawkeye Communication, we know the value of combining every piece of smart technology into one simple solution. That's why we install Lutron home automation and Honeywell security products.
Let us help you combine your video, security, audio, HVAC, lights, shades, and door/window locks into one easy-to-use system. Our experienced technicians will design controls to work with all of the systems in your home.
4. Go Easy on the Environment
There's no question that a lot of homeowners love smart home technology because of the ease and accessibility, but there's even more to enjoy. Smart home technology can help you save on energy costs because it requires the least amount of energy from your appliances.
You can set your system to capitalize on the sunlight that enters your home every day so you don't have to run the heat as much in the winter. Likewise, you can adjust the settings to keep your home cooler in the summer by letting your system close your blinds.
Hawkeye Communication is here to help you create the perfect smart home for your family. Give us a call today to receive a quote and start talking design.
Tags: