Why You Should Hire a Professional to Install Your Home Theater Instead of DIY
July 16, 2018 at 9:00 AM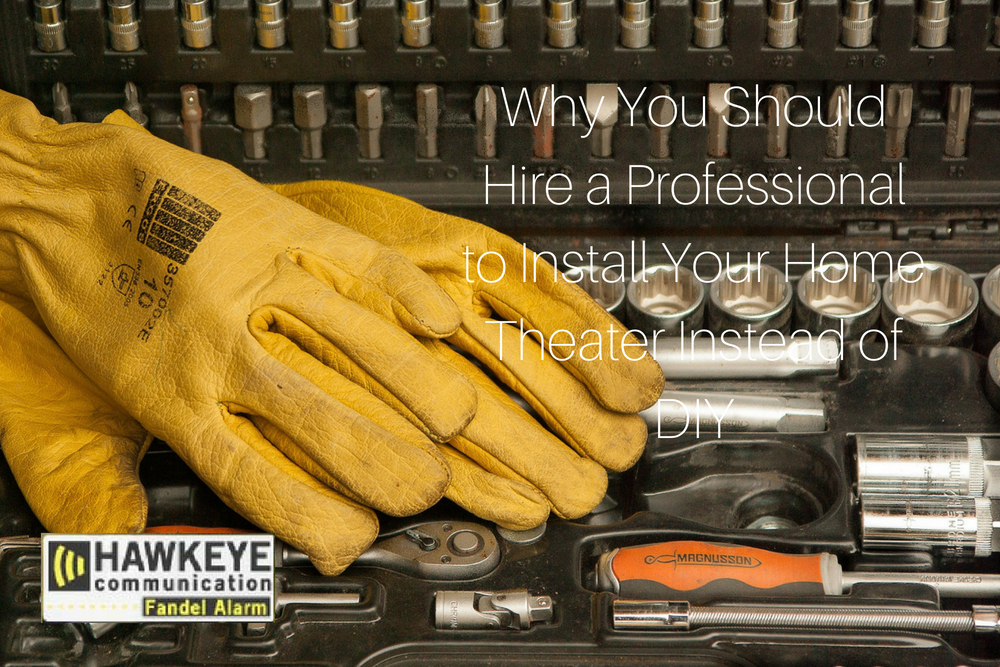 Have you ever imagined having your own home theater? For many homeowners, a theater room is well within reach. Before you start making plans and breaking out the power tools to build it yourself, you should consider working with a professional audio-video team.
Here are five reasons you should speak to a professional communication company before attempting to bring your home theater room ideas to life yourself:
1. Audio-Video Companies Know What They're Doing
When it comes to installing a theater room in your place, nothing beats the knowledge of a professional audio and video team. A team like Hawkeye Communication will take the time to work directly with you to create a system based on your needs and preferences. We also have the knowledge and experience to get the job done right.
No fiddling with wires, struggling with installation issues, or stressing over set up. We've got you covered. We know what to look for and how to make it work in your home the way you prefer.
2. The Professionals are Experienced
Don't trust just any audio-video team to create your theater room. After all, this is a room in your home you want and should enjoy for years to come. Professional audio-video teams have the experience it takes to tackle any issue.
Whether your room has an odd layout, it needs renovating, or you need to build a new room, the team at Hawkeye Communication can help. We've been working with homeowners in Cedar Falls, Cedar Rapids, Iowa City, and Waterloo for years. Let us create the perfect theater room that your family will love.
3. Your Theater Room will be Customized
Your home theater will be your in-home escape, which means it should be completely customized. A team like Hawkeye Communication knows how to create the theater room you're looking for because we handle it all: audio, video, design, installation, and support.
4. Customer Service and Support
The goal is to create a theater room that lasts for years but sometimes things happen. Technology dies on us, kids can make mistakes and break things, and sometimes wires go bad.
If you notice that one of your speakers doesn't sound like it used to or your projector is acting strange, give us a call.
Hawkeye Communication will help you with any of your concerns, questions, or equipment malfunctions.
5. Access to the Good Stuff
With professional teams comes professional equipment. Your expert audio-video team uses only high-quality equipment so your theater room makes you feel like a rockstar. Hawkeye Communication of Cedar Rapids is proud to offer sound and video equipment from renowned brands such as JBL Audio, Sonos, and Elan Home Systems.
Conclusion
Creating a theater room for your home is one of the best ways to feel like the king of the castle. Not only will you enjoy kicking back into your comfy seats to watch a good movie but so will the entire family.
Consult the professionals at Hawkeye Communication before you start working on your home theater room in Waterloo, Cedar Falls, Cedar Rapids, or Iowa City. We'd love to help you design the best one yet. 
Tags: