Why you should install a Honeywell Mass Notification EcoSystem in Cedar Rapids and Waterloo this 2019?
February 2, 2019 at 11:00 AM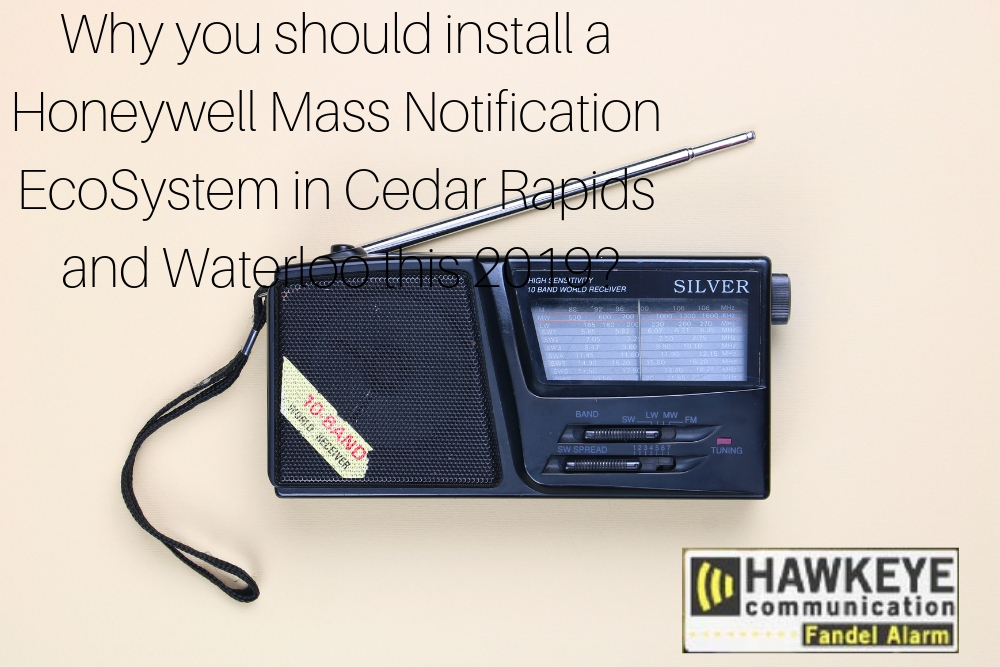 Do you know that installing an alarm system may not be sufficient in keeping people inside your premise safe, especially during an emergency?
Learn how an emergency and crisis mass communication solutions, such as the Honeywell Mass Notification EcoSystem can help your organization. Read on.
10 Ways An Emergency and Crisis Mass Communication Solution Can Protect Lives
1.  Creates a unified multi-channel notification
The Honeywell Mass Notification System is an integration of IP-based systems. This means you can communicate via it with almost all type of modern communications such as:
It is able to send thousands of messages with just a click of the button. This makes it an effective messaging tool, especially for
Factories
K-12 schools
Hospitals
Hotels
Industrial parks
Office buildings
Transportation infrastructures
Military bases
Universities
2. Acts as a comprehensive threat response
With many fake news easily circulating, it is easy to create panic from:
Major weather patterns
Pandemics
Terrorist activities
Thus, it is important to have an official source of information from your organization. In this manner, any fake news can easily be disregarded.
This also helps avoid the spread of misinformation because all messages can now be controlled in a single system.
3. Quick, rapids and pervasive reach
In an emergency, the faster the message reaches the most number of people the more efficient the evacuation plan can be implemented. Through an emergency-class notification, your business and institution will easily be notified to move out without creating much chaos and confusion.
This results to a reduced response time, which helps in saving more lives and minimize costly business interruptions.
4. It can be initiated anywhere
Since this is a web based application, the system administrator can easily initiate these notifications from anywhere as long as they have internet connection. So it is important, to maintain a secured connected even during times of emergencies.
About Hawkeye Communications
Hawkeye Communication/Fandel Alarm has over 50 years experience in the security business. We are a Honeywell Authorized Security and Fire Dealer. Our extensive training and ability to integrate has earned us this exclusive partnership. Talk to us to have your Honeywell Mass Notification EcoSystem in Cedar Rapids and Waterloo.
Tags: