Why Your Commercial Business Needs Video Surveillance
May 14, 2018 at 11:50 AM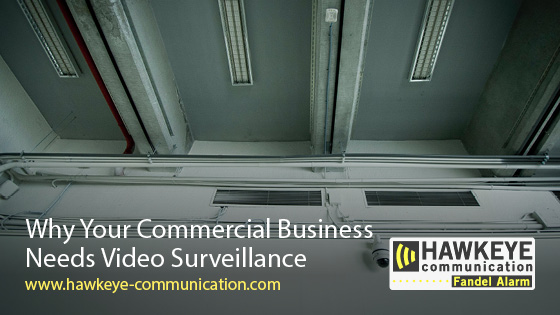 Iowa is a relatively safe state. Because we're not as densely populated as some of the larger states like California, Texas, and New York, it's tempting to think that we don't need to be as diligent about security. The truth is that no matter what your industry is, it's important to keep your commercial property secure. 
Whether you've had a security breach or not, you've no doubt considered the benefits of having video surveillance. Thinking of investing in a good quality video monitoring system can make your head spin, especially if you're a brand new business, but the benefits far outweigh the headaches. 
Fortunately, there are companies out there like Hawkeye Communication, that specialize in commercial security for business owners in Cedar Rapids, Waterloo, Iowa City, and Cedar Falls. 
Here are some of the best reasons to invest in a video surveillance system for your commercial business.
1. Boost Employee Productivity
Employees will perform better if they know big brother is watching. When cameras are around, they will work harder, but the benefits don't stop there. Video surveillance helps your productivity because it allows different departments to communicate with each other better. With improved cooperation, communication, and collaboration, you will notice higher productivity numbers. 
2. Solve Disputes
It's possible for conflicts to arise in any setting and sometimes it can be helpful to check out the video footage. If there is a dispute between a customer and an employee or between two employees, look back to see what that best course of action will be. Having a video surveillance system installed will give you concrete proof of what happened and when. 
3. Prevent Theft
It's difficult to prevent thefts from happening ever again, but video surveillance can significantly reduce your losses due to theft. Sometimes simply having a security camera on the premise is enough to keep a thief from executing their plan. 
A video surveillance installed by a security team like Hawkeye Communication will help your business save money in the long run and keep your property secure. 
4. Monitor Customer Behavior
The thing about modern surveillance systems is that there's so much more to them than video footage alone. A lot of systems come with video analytics that can help you keep track of people as they navigate your store, take a closer look at what captures their attention, and create profiles for them. 
This feature can be highly beneficial if you have a retail location because it shows you what your customers are drawn to. Did your video capture 12 people going over to the same rack? Take a look at what was so fascinating and place it in the front window of your store to draw even more people inside. 
Hawkeye Communication is a locally owned and operated business that specializes in commercial and residential security. We work with high-quality products to create custom security systems that work for your business, home, or industrial setting. Give us a call today to discuss your commercial security needs and receive a quote on your ideal video surveillance system. 
Tags: