Is Your House as Safe and Secure as it Could Be?
May 16, 2018 at 11:42 AM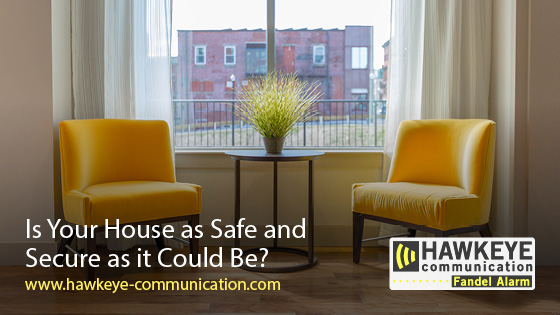 Your home is the place where you spend the majority of your time, so naturally, you want to keep it safe. Even if you have a habit of locking your doors and windows, you may still find several ways you can improve the safety and security of your home. 
Each year, millions of homeowners fall victim to crimes and damage by flood, fire, and natural disasters. No one has the ability to watch their house 24/7, but there are several ways you can make your home a safer place around the clock. 
Here are some ways you can make your home a safe place from the inside out: 
1. Lock your windows and doors
This should be a no-brainer, but those of us in the Cedar Rapids, Waterloo, or Cedar Falls and surrounding areas know we live in a relatively safe community, so we tend to be lax with windows and doors. However, the simple act of locking your windows and doors helps deter intruders. On average, about a third of burglars gain entry to homes through unlocked doors or windows each year. 
2. Install window and door sensors
If someone really wants to get into your home, they could just break your windows or burst your door open. These incidents are far more likely to occur when you're away from your home or out of town, so what can you do to prevent this from becoming an issue? Install window and door sensors!
Installing motion sensors on each window and door of your home means you'll know the moment the barrier has been breached. These sensors can be linked to your home security system that notifies you and the authorities when a threat is detected. 
3. Get a fire alarm system
Smoke alarms are excellent for detecting smoke but they can't notify first responders when there's a fire in your home. Reach out to your local residential security expert about a fire alarm system. 
Hawkeye Communication is a team of home security experts that serves homeowners in Cedar Rapids, Waterloo, Cedar Falls, Hiawatha, and Marion. We specialize in creating custom home security and safety systems that fit your home and lifestyle. If you have questions about your home's safety, we would be happy to speak with you. 
4. Install a home security system
Every home is different and so is every neighborhood. If you are concerned about any suspicious activity in your neighborhood, it could be a good time to install a security system, even if it's just for your peace of mind. 
Home security systems from brands like Honeywell offer many features including remote access so you can update or check on system settings while you're on the go. 
5. Add video surveillance
Video surveillance is a great way to keep your home safe because it often stops intruders in their tracks. Should anything happen, you'll have footage of the incident that can be shared with authorities, which brings everyone that much closer to catching the culprit. 
Hawkeye Communication specializes in custom home security and safety. We work with homeowners in Waterloo, Cedar Falls, Cedar Rapids, and the surrounding areas. If you're not sure what residential security solutions would be best for your home, give us a call today. 
Tags: