8 Reasons to Use Access Control System in Waterloo and Cedar Rapids Offices
March 15, 2019 at 11:00 AM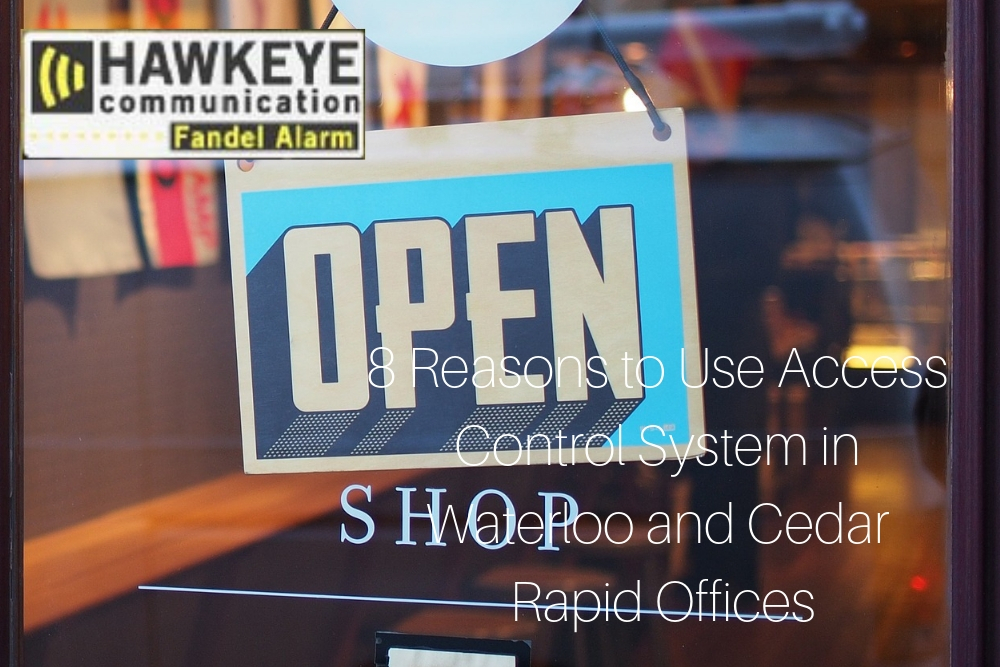 Nowadays, businesses always face numbers of security threats, from simple vandalism to theft and robbery and worst can be terrorism. Whatever kind of business you are operating, you can not just avoid security protection problems.
That is why a security system is implemented in most business organizations, especially if you are a business owner who has the duty to keep the safety of your investment and its residents.
You need to take necessary precautions from harm. You can aim this security by installing an access control system in Waterloo or Cedar Rapids business. This is an easy way to expand the security on your premises.
What is Access Control System?
Access Control System is a simple method used to manage the entry and exit into a specific location or area inside your building. This allows the owner to monitor movements in the premises. It also gives the owner the choice of certain people that are allowed to enter a particular room.
Here are 8 reasons why you need an Access Control System for your business:
1. No More Key Duplicates
Duplicating keys for your employees put your Waterloo and Cedar Rapids business at high risk of illegal entry. It only takes a dissatisfied employee to do such a crime.
Plus, it is very expensive to change locks and keys every time an employee resigns or have been dismissed. This is not to mention the possibility of them losing it unintentionally.
With an access control system, you can free yourselves from all of these worries. Since everyone is registered in your monitoring system, it is easy for you to remove access to anyone as needed.
2. Protection for Employees
Break-ins have increased, even in Cedar Rapids and Waterloo. Installing an access control system will not only prevent an unauthorized person from entering your premises but it also protects your employees from potential harm.
This gives both you and your workers the peace of mind from unwanted criminals. This results in better job satisfaction and productivity among your staff members.
3. Monitoring and Reporting
An access control system keeps track of the time and person that enters your building. So if ever there is a trespasser, he will be automatically recorded in your system's log.
This is a great help in resolving such cases. Tracking the time of your employees can also determine who is tardy and diligent in their work.
4. It Keeps Tabs and Control Access
Other workers tend to extend their hours in the office, unlike the others, like the janitors and guards. With an access control system, you can easily manage their access in line to the time they need to be inside the premises. You can also restrict entrance in particular areas, such as the treasury area.
5. REMOTE Access Control
If an outside contractor, a visitor or a non-staff needs access to your secured facility, the authorized personnel can open the entrance for them from the remote area where your system is located. This system provides flexibility while ensuring continuous protection for your place. Combine this system with CCTV and security cameras to increase the level of security of your building.
6. Modify Individual Schedules
With an access control system, you can limit the risk of vulnerability of your establishment by not providing absolute access to specific users. You can customize the schedule an employee is allowed to enter the building.
7. Minimize Bills and Guard the Environment
This control system can identify which rooms or spaces are unoccupied. It can automatically turn off the lighting to reduce energy consumption from those areas.
8. Integration
An Access Control System is very flexible and can be integrated with your building's existing security system like security cameras and CCTV. It can be programmed to work simultaneously with your in-house system. This doubles-up the level of security on your premises. Protecting and securing your investments in the long run.
We hope that these reasons help you decide that access control systems are the right protection for your business and people.  Don't just sit back and relax, you can never be too safe when it comes to your investment. Be smart, stay in charge and have a piece of mind! Talk to us.
Tags: